IMPORTANT: Before clicking the BOOK HERE button, you must select all the accommodations you would like to reserve at this step (Refugios, cabins and campings). When you have selected all services you may click it and go to the next step.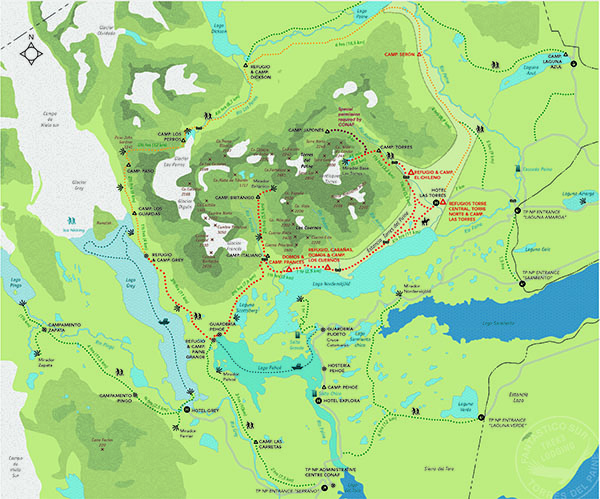 Policies
POLICIES, COMMERCIAL CONDITIONS AND PAYMENT SPECIFICATIONS FOR RESERVATIONS
FANTÁSTICO SUR: 2017 – 2018 SEASON
Reservation Request:

1.
Send an e-mail to: ventas@fantasticosur.com indicating the names and number of travelers, currency, nationality, type of invoice required, the number of travelers over 60 years of age, special information on diet requirements, allergies and other information deemed pertinent.
2.All reservations will be confirmed via email and assigned with a reservation code which will be printed on the voucher and must then be presented at check-in.
4.All reservations are valid with the presentation of the corresponding voucher at check-in. Travelers will not be received without this document.
5.Neither reservations nor payment blocks will be confirmed via the telephone. Only information regarding booking availability will be shared via the telephone.
6.Travelers will be directly charged for any services that are not requested as part of the reservation. (Services requested using a blank voucher, without prior reservation and pre-payment, will not be honoured).
7.Group reservations must clearly state when the presence of a local guide will be required and this service must be paid for in Chilean pesos. When requesting this service, an additional code will be added to the reservation.
8.For group reservations greater than 10 people, it is recommended that the follow information is stated: desired meal times, special food requirements, the need for low beds, the number of travelers above the age of 60 and health conditions, amongst other things. In this way, we can be sure of delivering the best possible service available.
It isn't possible to reserve private rooms in advance.
Payments:

10. Full payment for group reservations (more than 10 travelers) must be delivered at least 61 days before the date of check-in. Full payment for individual travelers (a booking for nine travelers or less) must be delivered at least 31 days prior to check-in.
11. Reservation payments must be made in the currency that was indicated and confirmed as part of the reservation request.
12. Payment receipts / bank transfer confirmations must be sent by email to: cobranzas@fantasticosur.com with an additional copy going to: ventas@fantasticosur,.com indicating: Name and the Reservation Code which indicates what is being paid for. The Finance Department at Fantástico Sur will send notification of payment once it has been received.
13. Reservations requested within the 60 or 30-day period prior to check-in, according to the type of reservation being made, must be paid for in full within the five-day period following the confirmation of said reservation.
14. No se efectuarán devoluciones de dinero, si el caso no se justifica de acuerdo a nuestras políticas, especificadas en los puntos 23, 24 y 28 del ítem Anulaciones, Modificaciones y No Show del presente documento.
15. Invoices will be issued after services have been rendered.
16. With regards to payments via bank transfer, the client must assume full responsibility for the total costs and commissions added by the bank to said transactions. In order to ensure this occurs, the client must include the mode OUR in the corresponding field when authorising the transfer.
17. With regards to refunds, the client will assume full responsibility for all commissions charged by the bank or other payment transfer systems.

Cancellations, Modifications and No Shows:

18. To avoid being charged for cancellations and/or modifications of reservations, requests must be sent via email at least 61 days prior to check-in (in the case of group reservations) and 31 days prior to check-in for individual reservations, indicating the code that was handed over by the sales executive as part of the reservation.
19. Fantástico Sur will send an email to confirm the cancellation or modification, providing proof of the changes made for the benefit of all parties involved.
20. If the traveler does not show up to check-in at the accommodation reserved by Fantástico Sur on the date indicated in the reservation, the cost of the accommodation and contracted services will be charged and invoiced in full. If the reservation code indicates that the traveler is exempt of Chilean Traveler Tax, the invoice for "No Show" will be an Invoice Exempt of National Tax in Chilean pesos.
21. Our timetable for check-out is 9.30 AM and check-in runs until 8.00 PM. With regards to those travelers who wish to arrive after 8.00 PM, an email indicating such must be sent to the traveler's sales executive. If an email is not sent and received, Fantástico Sur cannot accept responsibility and, in the event of not arriving within the stipulated timetable, the reservation could be determined as a NO SHOW.
22. Fantástico Sur Ltda. will not refund money if the cancellation takes place outside of the stipulated timeframe or in the case of a NO SHOW, regardless of the inconveniences experienced by the traveler which do not allow for his/her prompt arrival or access to the shelters and camping, owing to external causes that go beyond the company's control. These include: i) health problems, ii) personal problems, iii) any kind of accident or disability, iv) climate problems, v) road blocks or fallen bridges, vi) transfer delays (buses and/or airplanes), vii) cancellation of boat or ferry trips, viii) natural phenomenons, ix) missed flight connections, x) social or political protests, or derivations of the same, xi) or any other problem beyond Fantástico Sur's control. To combat all eventualities identified, it is recommended that the traveler take out travel insurance. Fantástico Sur is happy to help in any way necessary to provide all documentation that a travel insurance company might require, so as to help the traveler make an insurance claim in his/her country of origin.
23. If a traveler does not show up on the day of his/her reservation in one of the shelters or camping sites, for any of the reasons outlined in point 22, Fantástico Sur Ltda. reserves the right to make reserved spaces available and promote them to the public. If the traveler reserves more than one night and does not show up on the first day of his/her reservation, the total number of nights during his/her stay will be automatically cancelled, unless the traveler informs our Commercial Offices in Puerto Natales that he/she will arrive the following day (on the understanding that he/she will lose the first night's accommodation regardless). These terms and conditions apply to those cancellations that are made outside of the specified timeframe and for No Show travelers.

Responsibilities:

24. Fantástico Sur Ltda. cannot be held responsible for the loss of objects of value, documents, or any other kind of personal belonging during the trip, during tranfers, on the paths or during the traveler's stay in accommodations that are reserved via the company.
25. Fantástico Sur is not responsible for any accidents that occur on the road, within the park (on the paths or during contracted excursions), or during other kinds of transfers.
26. Similarly, it is the responsibility of each traveler to perform a preventative medical check-up before signing up to an excursion, trek or other kind of activity that implies physical exertion, to ensure that his/her state of health is compatible with the kind of activity he/she intends to endure. Pregnant women must present a medical certificate signed by their doctor, indicating that they are physically able to participate in the activities included on their program of choice.
27. Even so Fantástico Sur shares information with its travelers regarding the level of difficulty of the walks and the distances covered during each day of the chosen programs, it is up to the traveler to read all information available and to understand what his/her personal limitations are. It is also the responsibility of the traveler to understand what equipment he/she should bring, using the information outlined by Fantástico Sur, to make the most of the journey.
28. Fantástico Sur Ltda. will not assume responsibility for the costs included in modifying or cancelling reservations. Nor will it assume responsibility for costs generated from the loss or delay of air, land, lake or sea transfers incurred by the traveler.

Children:
29. Camping: Children under the age of 10 can stay in the campsites free of charge, only in standard camping or platform, in premium platform pay full amount of the  stay . Even so, food for children under the age of 10 is NOT free of charge.
30. Shelters: Children under the age of 6, who share a bed with their parents, can stay in the shelters free of charge. Even so, food for children under the age of 6 is NOT free of charge.

Publicity:

31. No kind of publicity whatsoever is allowed (without previous authorisation) at Cerro Paine Ranch and across all its facilities.

Forms of Payment:

32. All main credit cards, sending the card number and card expiration date via email.
33. Deposit of Transfer:
CHILEAN PESOS:
Corpbanca – Punta Arenas
Fantástico Sur Limitada.
Rut: 78.809.700-K
Bank Account Number: 38454572
DOLLARS:
Corpbanca – Punta Arenas
Fantástico Sur Limitada
Rut: 78.809.700-K
Bank Account Number: 39516066
Banco Santander – Santiago
Fantástico Sur Limitada
Rut: 78.809.700-K
Bank Account Number: 31 – 80202 – 4
Banco Santander – Santiago
Fantástico Sur Limitada
Rut: 78.809.700 – K
Bank Account Number: 51 – 30002040
SWIFT: BSCHCLRM

UNITED STATES BANK ACCOUNT
Bank Name: CorpBanca New York Branch
ABA Number: 26014627
Swift Code: CONBUS33
Beneficiary Name: Servicios Turísticos Fantástico Sur Limitada
Bank Account Number (in dollars): 3003067

2017 – 2018 Opening / Closing Dates:

Refugio Torre Central y Camping Central: 01 September / 30 August
Refugio, Cabañas y Camping Los Cuernos: 01 September  / 30 August

Domos El Francés y Camping El Francés: 01 October / 30 April

Refugio y Camping El Chileno: 01 October  / 30 April

Refugio Torre Norte: 01 October  / 30 April

Camping y Domo Serón: 01 October  / 30 April

The dates listed above are for reference only and are subject to modifications. All information will be duly updated and made available should the moment arise.Contact
Reservations: ventas@fantasticosur.com