IMPORTANT: Before clicking the BOOK HERE button, you must select all the accommodations you would like to reserve at this step (Refugios, cabins and campings). When you have selected all services you may click it and go to the next step.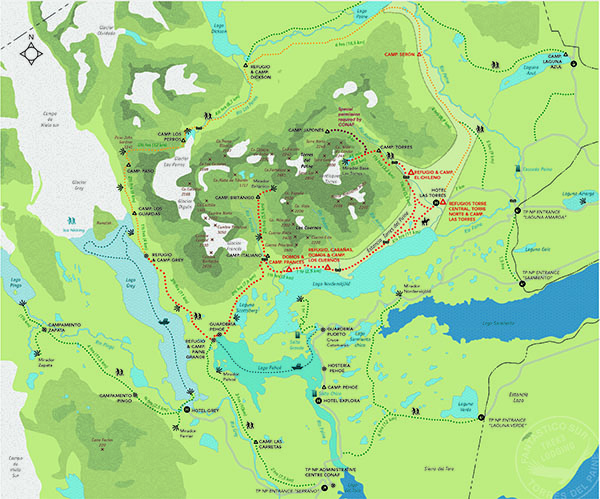 Policies
Simple Bed (Without sheets): For use of own sleeping bag includes a pillow.
Made Up Bed (with sheets): Includes: Pillow, Cover bed, Sheets. 
Equipment rental is per night, it must be returned to theCamping Manager when you leave.
Refugios el Chileno and Los Cuernos have only available the following options of accommodation Bed + Sleeping bag or Bed (without sheets, for use of own sleeping bag).  
PAYMENTS AND CANCELLATIONS
Payment of the total amount of the reservation will have to be done at least 31 days before the check in date. For bank transfers please send an email with the payment document (SWIFT) to cobranzas@fantasticosur.com in copy to your sales executive ventas@fantasticosur.com indicating the reservation code assigned to the payment. 
in case of bank transfers, the client will be responsible of ALL bank commissions. 
Cancellations or modifications without charge must be done 31 days before the date of check in by sending an email at which Fantastico Sur will send an email confirming the cancellation or modification.
If the cancellation is made less than 31 days prior the arrival, it will have a penalty of the total amount of the reservation. 
BOOKINGS AND PAYMENTS 
Reservations:
The booking will be confirmed with a unique booking code that you will have to present at the front desk at the check in. At the checkIn it will be necessary to present your online booking confirmation.
We do not confirm bookings by telephone.
DO NOT FORGET TO BRING: PASSPORT, TOURIST CARD (given when you enter to Chile) and PAY IN FOREIGN CURRENCY TO APPLY FOR FOREIGN FRANCHISE. 
Payments and Cancellations:
In the case of Online bookings, the payment will be done to confirm your reservation by Credit Card.
There won't be refunds for bookings where guests do not present on the date reserved. In case of No show Fantástico Sur will issue a Chilean pesos invoice.
Our check in schedule is until 20.00 PM, in case of guests arriving later, please send us an email or call directly to the Refugio,otherwise Fantastico Sur is not responsible, and the booking should be considered as No Show.
Invoices will be emitted after given the service. 
Fantástico Sur is not able to make refunds by bank transfer or directly to credit cards, the unique only available option to make a refund is by PayPal.
Fantástico Sur is not responsable for extra fees charged by Paypal. 
Foreign Franchise:
In Chile we have this Tax Exemption Foreign Franchise,which operates if showing your original passport, original tourist card given when arriving to Chile, staying at the Refugios, Cabins or Domes and paying in foreign currency.So you will be exempted of paying taxes (IVA, 19%) in lodging. This franchise does not apply for guests staying at Camping Sites. 
Free Of Payment Policy:
Camping: For groups of more than 16 guests, 1 person will be free of payment, except meals
Refugios: For groups of more than 16 guests, 1 person will be free of payment, except meals. 
Children:
Camping: from up to 10 years children are free of payment,except meals.
Refugios: From up to 5 years, children are free of payment, sharing bed with their parents, except meals.   
Full Board: Breakfast / Dinner / Served Lunch or BoxLunch.
Camping Price per person, includes use of Bathrooms and hot shower.
Menu doesn't include drinks and wine, only water.